A Piece of My Mind …
The Rio Olympic Games demonstrate that we expect athletic achievement and success to be measured by precise, objective standards that are universally understood and accepted. When an Olympic swimming champion crushes the competition by a mere hundredth of a second, it is a given that this data will be recorded and relied upon forevermore in the "record books."  Similarly, when competitors are disqualified from competition because of the "presence of performance enhancing drugs," there is objective data to establish that presence. 

The need to collect objectively measurable data to assess the efficacy of special education programming is no less critical.  Without the existence of reliable data, how is any parent to know if their child is, in fact, making meaningful progress? By the same token, without reliable metrics, how is a school system to evaluate whether its programming is genuinely working and in compliance with the applicable state and federal mandates? 

In 2014, Mayerson & Associates commenced a federal class action lawsuit against the NYCDOE, alleging a systemic failure to conduct "transition" (vocational) assessments and a related failure to provide well coordinated transition services based on those assessments.  At a minimum, we estimated the affected plaintiff class to be in the tens of thousands. We were shocked to uncover that, in addition to other systemic failures, the NYCDOE's $130 million dollar Special Education Student Information System (its "SESIS" computer system) did not even have the basic capability to track and report those students who had received vocational assessments, and those who had not. This was a particularly disturbing discovery because the capability to track this kind of data is obviously essential to any settlement or court order that would require systemic compliance to be monitored and confirmed. Our client families and the public at large are entitled to nothing less. 

The City's $130 million SESIS embarrassment has now become the subject of a lawsuit brought in the New York Supreme Court by Letitia James, the City's Public Advocate.  This month, in James v. Farina, Supreme Court Justice Lynn Kotler directed the City to publicly answer the Public Advocate's pointed questions about the "monitoring" deficiencies of the City's SESIS system–deficiencies that the Public Advocate agrees are "cheating" NYC children out of services and causing the City to lose out on hundreds of millions of dollars in Medicaid benefits.   

To date, the NYCDOE has yet to publicly acknowledge that it paid $130 million for a computer system that clearly cannot do its job. Nor has the NYCDOE advised as to how it plans to fix this debacle. Instead of an ineffective stopgap remedy that will only delay the inevitable, the NYCDOE should bite the bullet now and scrap its worthless SESIS computer system in favor of a far less expensive system that actually works.  Remedial action must be taken (or compelled by the court system) so that we do not lose yet another generation to the City's "transition" failures.

As we begin another school year, I'd like to thank the entire team at Mayerson & Associates for its dedication and perseverance. As always, we will continue to advocate for individualized programs for each and every child and their families while we work to expose the unfortunate systemic abuses that deprive children of their statutory entitlements.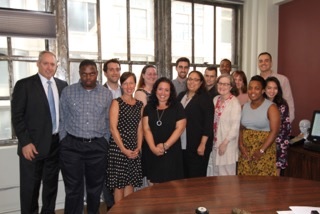 The Mayerson & Associates Team
____________________________________
Mayerson & Associates' Amicus Role In Important Supreme Court Case
By Jean Marie Brescia
Gary Mayerson has served on the national board of Autism Speaks for ten years and has headed its Federal Legal Appeals Project, helping to inform and guide the Supreme Court's decision making in appeals affecting the autism community.
On August 29, Gary Mayerson and I and lawyers from Greenberg Traurig and the Autism Speaks Legal Resource Center will be filing an amicus brief on behalf of Autism Speaks in Fry v. Napoleon Schools, an appeal that the high court accepted after the Justice Department intervened to support the parents' interpretation of a key provision of the IDEA statue.
At issue is the federal "exhaustion" doctrine.  According to the parents and the Justice Department, exhaustion of administrative remedies should not be required if the relief being sought cannot be awarded in the administrative proceeding.  The amicus brief will reveal the significant prejudice that can result when children are forced to languish and regress while waiting for administrative remedies to be exhausted.  Once filed on August 29, the amicus brief in the Fry case will be posted on our website , www.mayerslaw.com.
____________________________________
A Successful Start For The 2016-2017 School Year
By Mauricio Bertone
Several months ago, Gary Mayerson and Maria McGinley met with the New York City Comptroller's senior staff to ensure that our firm's settlements with the Department of Education are processed and funded as quickly as possible. This year, our 2016-2017 filings for "twelve month" students appear to be well on track, with most matters already being "referred for settlement" (the very first step in the settlement process).  Some of the 2016-2017 settlements have already been completed and "signed off" by the Comptroller.
Parents play an instrumental role in supporting the reimbursement process.  To expedite reimbursement (or prospective funding), parents should assemble and provide us with:
Updated attendance records
School contract(s)
Updated invoices and proof of payment
Provider affidavits
Loan agreements (if any)
Tax returns (for those families seeking "direct" payment)
Provider progress reports
Any recent evaluations or assessments
We will continue to press the Comptroller to expedite settlements involving our client families. Parents having any questions about the reimbursement process should call me or the firm's Reimbursement Specialist, Janna Wince.
____________________________________
Mayerson & Associates Advocates for Safety And Accountability in Adult Group Homes
By Maria McGinley
Each year, 50,000 Americans with autism will make the transition to adulthood.  In some cases, the transition to adulthood will mean placement in a group home, now known in New York State as an "IRA" (Individual Residential Alternative).
Safety and accountability is a growing problem, as staff may be inadequately trained and or supervised.  Moreover, there are fiscal incentives to "cut corners."
Our practice has expanded in recent years to include the representation of adults living in residential settings who have experienced abuse, neglect or other mistreatment. One case of note involves a 23-year-old man with autism who, it is alleged, was neglected by his group home and suffered multiple injuries.  His parents have alleged that his group home then intentionally concealed its neglect. Recently, the State's Justice Center, following an investigation, confirmed the parents' allegation of neglect. Unfortunately, this case offers a window of insight into a growing problem requiring far greater state and federal oversight.
____________________________________
Federal Avonte's Law to Fund The Training of "First Responders"
By Jacqueline DeVore
Mayerson & Associates was instrumental in supporting the passage of "Avonte's Law" in New York City.  Gary Mayerson testified before the City Council and worked behind the scenes with  Council-member  Rob Cornegy, who introduced the legislation. New York City's version of Avonte's Law helps to make our public school buildings safer by "alarming" exit doors.
The national version of Avonte's law, introduced by Senator Chuck Schumer, will go even further.  The Senate has approved the measure, and it will now proceed to the House of Representatives for further consideration.  Among other benefits, the new legislation, when fully signed into law, will provide funds for much needed training of police and other first responders who often do not have the knowledge, skills or training needed to manage behavior so as to neutralize the dangerous confrontations that can quickly become life threatening.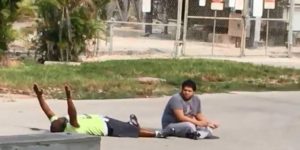 ABA therapist for man with autism shot by police in Florida
Some of our client families have taken the proactive step of introducing their children to personnel at the local police precinct or fire station.  Ma yerson & Associates encourages such introductions as an important step towards greater awareness and safety.
____________________________________
Mayerson & Associates' 2016 Summer Internship Program
By Jean Marie Brescia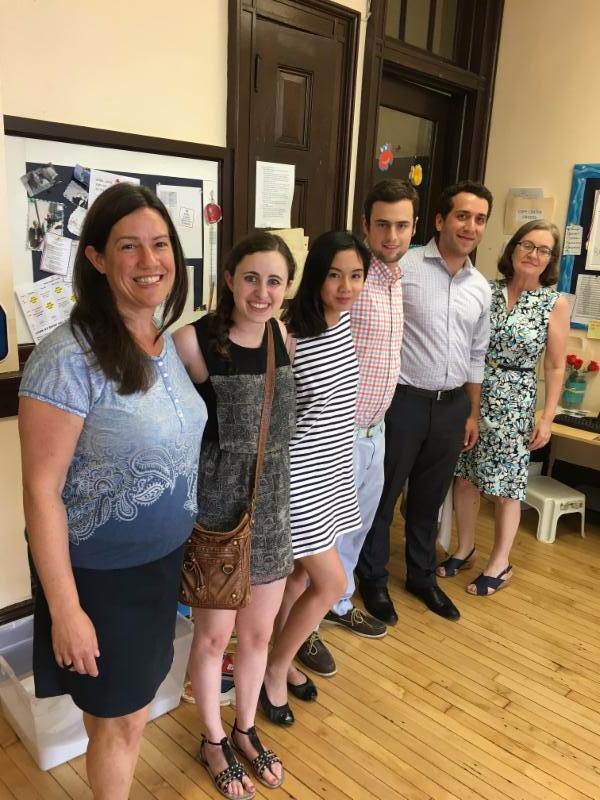 Visiting with Dr. Ivy Feldman at The Keswell School
Mayerson & Associates' 2016 internship program was a resounding success! Mayerson & Associates has a highly developed internship program and is able to attract the most accomplished students from area law schools who have a demonstrable interest in the firm's mission. This year, our interns observed court proceedings, assisted with legal research and brief-writing, participated in client meetings, and had the opportunity to visit a variety of autism classrooms.  In July, our unique program was profiled on Good Day Street Talk (Fox).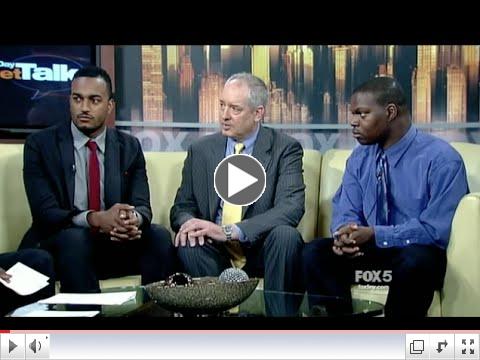 Summer Intern Danny Oquendo and Paralegal Randy Richardson
 
Our 2016 summer interns included Joel Kuzniecky (Fordham Law 2017), Daniel Oquendo (New York Law 2017), Dana Horowitz (Tufts 2018), Matthew Mayerson (Dean College 2017) and Kimberly Sy (CUNY Brooklyn College 2019, who came to us through Mayor DeBlasio and his "Ladders for Leaders" program). We wish each of our summer interns continued success!
____________________________________
Save The Dates!
October 19 : JobPath will be honoring longstanding board member Gary Mayerson for his noted work as a civil rights attorney and for Mayerson & Associates' participation and commitment to hiring people with developmental disabilities. JobPath is a not-for-profit, charitable organization that provides training, job coaching and job placement opportunities to individuals with autism and other developmental disabilities. For further information, log onto   www.jobpathnyc.org
October 27 and 28 : Maria McGinley and Jackie DeVore will be making  presentations at the annual Autism NJ Conference to be held this year at Harrah's Atlantic City Waterfront Conference Center. Maria's individual presentation is entitled "Analyzing the IEP: Identifying and Filling Gaps to Meet Each Student's Needs."  Maria and Jackie also will make a joint presentation entitled "Developing Individualized, Thorough and Effective Transition Plans." For further information, log onto www.autismnj.org/annual-conference.
Mayerson & Associates wishes you a smooth transition back to school!